HELL DEMON SLAYER MAGIC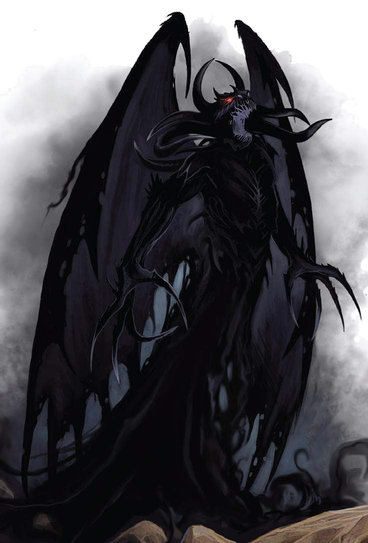 Name:
Hell Demon Slayer
Type:
Darkness
Usage:
Conjuration
Description:
Hell Demon Slayer Magic is a strange one. It is the "darkness" variant of Demon Slayer Magic, however, this form of slayer magic, designed to slay demons, has a light tint, thus creating white darkness. It still retains all elemental properties, but it is darkness with a very unusual coloration. Invented by the Hell Demon Lucivoulus, it was passed on to a young orphan boy by the name of Axilmeus Steel. Kept from the gods, humans, and dragons to protect the demons themselves, and as such much controversy arose when Axil was taught it's secrets. Lucivoulus, however, brought to his brethren's attention that with a human child on their side, one whose potential was unknown, they could stand a chance against the dragons and gods. He revealed that slayer magic of all sorts was being taught to humans by gods and dragons, and it was time for demons to do the same. So the training began, and Axil became the first human to wield Demon Slayer Magic.
Hell Demon Slayer's naturally are enemies to light slayers, most notably the light god slayer. They have opposing abilities and are perfectly suited to combat each other. Like many demons, Hell Demons are beings of chaos who destroy their enemies with no remorse. They represent chaos, darkness, and destruction.
Passive Abilities:


Being of Darkness: Gains MP when facing off against light element opponents.

MP Chart:

F=5%
D=10%
C=15%
B=20%
A=25%
S=30%
H=40%
X=50%
?=65%



Dim the Lights: The user is able to send a pulse out of white darkness that eliminates all light in the area.


Per Rank (radius):

F Class: 1 Foot
D Class: 5 Feet
C Class: 10 Feet
B Class: 5 Meters
A Class: 10 Meters
S Class: 15 Meters
H Class: 20 Meters
X Class: 25 Meters
? Class: 30 Meters



Creature of the Night: Gains 7 MP per post if he's in the darkness, but he can't eat


Your Shadow is Mine: Can eat other's shadows as well as any "darkness" element attack. It has to be equal or lower rank and restores MP=Half the rank of the attack. Shadows will be equal to his rank. The spells also still do damage.


I am Vengeance, I am the Night: Can see in the dark without any external assistance.


Per Rank:

F Class: 5 Feet
D Class: 10 Feet
C Class: 5 meters
B Class: 10 Meters
A Class: 15 Meters
S Class: 20 Meters
H Class: 25 Meters
X Class: 30 Meters
? Class: unlimited vision in darkness



Talk to Me Baby: Axil can speak the language of demons and monsters.


Where You At?: Aside from being able to see in the dark, Axil can sense life forms whenever they are in a dark area.


Per Rank:

F Class: 5 Feet
D Class: 10 Feet
C Class: 5 meters
B Class: 10 Meters
A Class: 15 Meters
S Class: 20 Meters
H Class: 25 Meters
X Class: 30 Meters
? Class: unlimited sensing in darkness



Demon Force: Demon Force highly increases the power of the Demon Slayer's magic, physical endurance, speed, and strength. During Demon Force, the Slayer does not lose any MP, Magic Power, from casting spells, but  after it wears off  they are left with 5% mp.  It can be summoned only when the slayer has obtained a total of 150% MP.
Lasts for 5 posts.


Demon's Aura: Can only be activated by consuming an enormous amount, at least 25%, of its own element, mixed or pure, once every 5 posts. Body is cloaked in a tinted aura of their respective element. It puts all stats into the next range on the character scaling. The spell power of each rank is increased to 150%. Physical attacks deal status effects from their respective element. (Frostbite, Burn, Poison, etc.)
Lasts 4 posts and can only be used twice per thread
Cooldown is 5 posts from when Demon's Aura wears off.


Light And Dark: The user's spells deal x2 damage to Light users. The user also receives x2 damage from Light users.

Spells:
D Rank Spells:

Hell Step:

Name:

Hell Step

Rank/Level:

D

Description:

The user produces white darkness from every area on their body effectively becoming the darkness. They then are able to seemingly teleport to wherever they please, creating a dazzling sight as the white mass shifts around and flies to a more strategic location.

Stengths:



Allows the user to move to another place in the blink of an eye (this includes upwards, downwards, diagonally, etc.) with a maximum range of 20 feet

Can be utilized for a dash attack, as he is only moving swiftly, not teleporting

Transforms both the user, his clothes, and any items they're holding into darkness.

Because of the above effect the damage taken from this attack acts as C rank against light users


Weaknesses:



Can be blocked which would do massive damage to the user because of the speed their moving

This only let's him dash in one direction

Can't attack if he's carrying an object.

No spell can be used while this one is in use as well

He can't transport other people, Users or NPCS.


Duration: 1 Post

Cooldown: 3 Posts

Hell Demon's Strike Fist:

Name:

Hell Demon's Strike Fist

Rank/Level:

D

Description:

The user produces white darkness from their wrist and shape it around their closed fist. They then lunge forward and strike the opponent with their shadow fist.

Strengths:



Allows the user to deal melee damage infused with white darkness with enough force to break wood and stone for one strike of equal rank.

Because it is the epitome of darkness, it deals C rank damage against light users

The Darkness effects any melee weapon they are holding in their hand, extending the effects to that as well. The above strength (C rank against light users) does not carry over to the sword, but the boosted strength and shadows still do.


Weaknesses:



The opponent needs to be relatively close to the user, within punching distance

The user can't stop the motion once they've they've thrown the punch/swung the weapon

Since the darkness provides no boost in defense, the user's fist can still be damaged

Leave the user open for attacks since they can't stop the motion


Duration: 1 Post

Cooldown: 2 Posts

Hell Demon's Song:

Name:

Hell Demon's Song

Rank/Level:

D

Description:

The inhales and then begins to sing a beautiful melody. Pale white sound waves can be seen exiting the user's mouth, and those who are struck by the projectiles undergo several effects caused by them.

Strengths:



The spell causes those who are hit with the sound waves to have weakened attack. For 2 posts they have their physical and magical strength reduced by one level.

Because it is the epitome of darkness, light users have their attack reduced by twice as much. This only applies to their magical strength however, and does not effect their physical strength as much.

Allows the user to effect people at up to 5 meters away directly in front of him.


Weaknesses:



Everyone around him will be alerted to his presence. Songs can't be silent after all.

The inhale removes all darkness from a  6 foot radius around the user, and the user gains no MP from this darkness

The user can't use this technique if their mouth is covered, and it doesn't do any damage.

Leave the user open for attacks while in use since they can't move while attacking


Duration: 1 Post (effects last 2 posts)

Cooldown: 4 Posts

Demon Slayer Secret Art:

Name:

Demon Slayer Secret Art: Empty Void: Sorrowful Sky

Rank/Level:

D

Description:

The user shoves their hands into the sky. The area around the user pulsates with a strange white light. Black lines begin to randomly fly back and forth within this barrier, and their number and speed make them extremely hard to dodge

Strengths:



Those hit by this spell receive a darkness curse, which allows Axil to teleport towards them by his will once. It is characterized by a circle on their body and will disappear early if submerged in water.

Because it is the epitome of darkness, light users receive twice the debuff.

Those hit by the attack have their defense lowered by one level.

Because of this, it is hard to approach Axil in the 2 meter radius the clouds effect, at least without being effected.


Weaknesses:



Axil has his magic exhausted by this spell. He can't preform any spell for the post after he uses this.

He needs to have just eaten to preform this attack.

The user will be pretty defenseless if he misses, because of the downsides that come from using this attack.

Leave the user open for attacks while in use since they can't move while attacking

It only works when touching skin. Fully armored opponents are unaffected.


Duration: 2 Post

Cooldown: 4 Posts
C Rank Spells:

Hell Demon's Rage:

Name:

Hell Demon's Rage

Rank/Level:

C

Description:

The inhales and then lets loose an enormously powerful blast of white darkness against their foe. This is the signature technique of the Demon Slayer, and this is the Hell Demon Slayer's specialized version

Strengths:



The blast can be boosted by 50% of power when the user is above 100% MP, but it takes twice as much MP to use in that case meaning it deals additional D-rank damage on top of the standard C.

Because it is the epitome of darkness, it deals B rank damage against light users

Allows the user to fire a 3 meter diameter 20 meter blast of darkness from their mouth


Weaknesses:



Requires the user to breath inwards before firing, this 2 second period leaves the user open to attacks

The inhale removes all darkness from a  6 meter radius around the user, and the user gains no MP from this darkness

The user can't use this technique if their MP is below 60%

Leave the user open for attacks while in use since they can't move while attacking


Duration: 1 Post

Cooldown: 5 Posts

Demon Slayer's Kill Knee:

Name:

Demon Slayer's Kill Knee

Rank/Level:

C

Description:

Their knee enveloped in white darkness, the user thrusts it forwards and strikes the target in the stomach. It is a power based attack that also partially relies on speed, and it, like all spells of Axil's, is a dark spell designed to slay demons and light magic.

Strengths:



Axil can use this attack to crush weak objects like stone, wood, and can even bend unenchanted steel of equal rank.

Because it is the epitome of darkness, light users receive B rank damage.

The user can send his target flying if they're hit. It most likely will be about 5 meters, but it could change based on the targets weight.


Weaknesses:



If the user's attack is blocked it does damage to him or her instead. This is D rank damage.

The user can't use any other spells in conjunction with this spell.

If the user's leg is immobilized, then this attack can't be used, even if it's in mid use

Relatively short range, as it's a melee move. The opponent needs to be right in front of the user to be hit.


Duration: 1 Post

Cooldown: 5 Posts

Demon Slayer Secret Art:

Name:

Demon Slayer Secret Art: Empty Void: Hungry Earth

Rank/Level:

C

Description:

The user shoves their hand into the ground. A crack appears in the earth underneath the target, and if they don't get away in time they are struck by an enormous blast of Hell Demon darkness.

Strengths:



Those hit by this spell receive a darkness curse, which causes the bearer to be struck by an attack worth D rank damage when they are hit by another Demon Slayer Secret Art of Axil's. It is characterized by a circular mark on the person's body. It can be removed by submergence in water.

Because it is the epitome of darkness, light users receive B rank damage.

Allows the user to effect people at up to 10 meters away directly in front of him.


Weaknesses:



Axil has his magic exhausted by this spell. He can't preform any spell for the post after he uses this.

He needs to have just eaten to preform this attack.

The user will be pretty defenseless if he misses, because of the downsides that come from using this attack.

Leave the user open for attacks while in use since they can't move while attacking


Duration: 1 Post (the mark lasts for 4 posts)

Cooldown: 8 Posts
Last edited by Axilmeus Steel on Sat Nov 15, 2014 3:51 pm; edited 10 times in total