Name:
Clockwork Composite Bow/Crossbow
Owner:
Sly
Type:
Weapon (ranged)
Rank:
Weak
Description:
A standard composite bow made from tiny gears, pivots, supports and other components from a pocketwatch; well fitted together to create a mechanism. The gears move in a 'ticking fashion' but they only serve for aesthetic purposes. The two larger gears near the side window, however, spins once the bow is drawn. As an added feature to the bow, some parts of the bow limbs fold down towards the midpoint and past the string, turning it into a crossbow.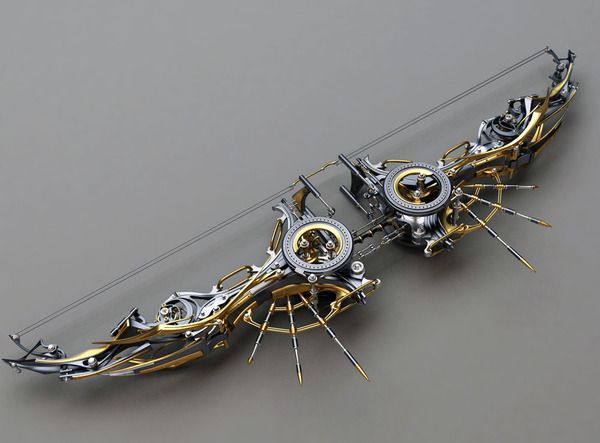 Length:
40 in
Weight:
2 lb
Strengths:
- Can fire multiple arrows at once (up to 5) in bow form but the range is only D-rank
- Can fire a single piercing shot in crossbow form, which can travel at C-rank distance
Weaknesses:
- Incredibly long transition between different forms (takes up remainder of the post)
- Extremely weak if enemies managed to close the distance
- Breaks after 2 weak hits rather than 3.
Ability:
Weak item
Damage:
F-rank - 1/2 D-ranked damage
D-rank - D-ranked damage
C-rank - C-ranked damage (MAX)