Name:
Black Knight Armor
Owner:
@Don Quixote
Type:
Armor
Rank:
Legendary
Description: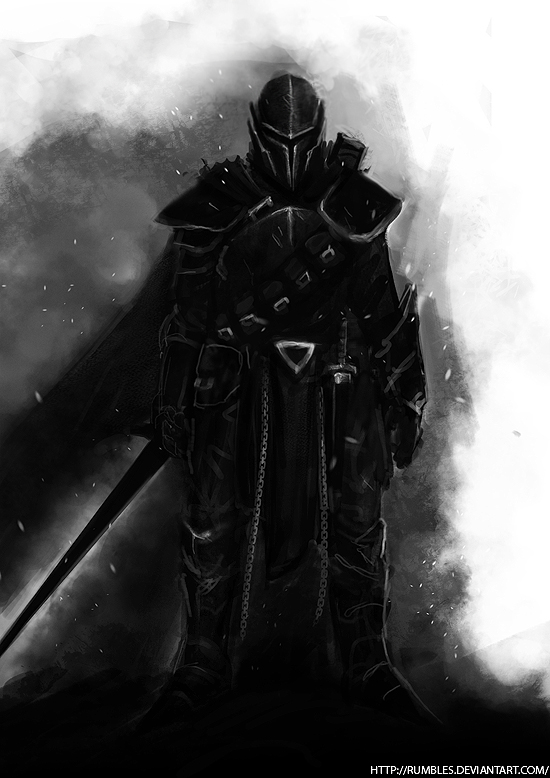 This armor was forged by Nanashi himself - bound by a mystical talisman it is connected to Nanashi's very shadow. Stored inside of the Fifth Dimension - Nanashi can summon this armor from within to surround his body. The armor is made of special reinforced steel which is colored a dark grey/blackish hue, trimmed with white. This armor is made specifically to protect Nanashi from Dark Magic - but the armor is all around made sturdy to protect him from seemingly anything. While wearing the armor he wears a helmet incrusted with a warrior clan's mark.
Length:
N/A
Weight:
30lbs
Strengths:
- Intimidating af
- Covers the user's whole body
- Protects user with a Durability of: 30 Weak Hits / 10 D Spell hits -
Weaknesses:
- Once it is broken only the user's base clothing remains and they are vulnerable to damage
- Made of Metal and thus could be eaten by a Metal Slayer
- Armor is clanky and thus does not allow the user stealth
- The armor scares children
Ability:
Shadow Armor - the armor is binded to the user's shadow and thus can be summoned onto them once per thread. Only works if the armor was not worn into the thread to begin with.
Darkness Armor - The armor is extra protective against Darkness magic due to it being infused with Nanashi's own magic. Takes 1/2 damage from Darkness Element but 2x damage from Light Element.
Last edited by Don Quixote on Mon Dec 04, 2017 4:24 pm; edited 1 time in total