Skylar
Pandora's Phoenix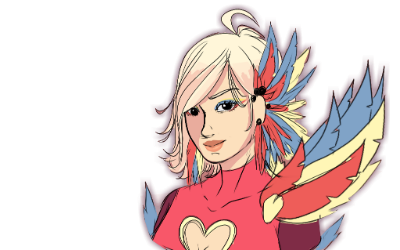 The daylight which broke through the clouds was well on its way down, bathing the grounds with warm colours. The sight was surprisingly bright, but Skylar wasn't put off by this. The answer as to why this was was simple. Nameless had bestowed upon her a gift of a sword and had sent her into the field to see what she can truly do, what she was capable of. Her mentor had sent her after a grave robber, a thief, known as Zack Coyote.
From what Skylar could find out about him, he had been seen around the area somewhat recently, but that wasn't why Skylar partially hid herself in the woodlands which surrounded a graveyard. Word had gotten out about the death of a wealthy merchant, something which Skylar had picked up on. She had followed the crowd which gathered in sorrow and located exactly where the burial would be. And when it took place. The fresh mound of first signalled that it was fresh. However, Skylar had to be partially amused by what she had seen. The casket was rather extravagant, even though it housed a dead body, but this was exactly the thing which Skylar had hoped would draw her target out.
After all, he was somewhat into stealing from the dead.
Skylar laid in wait at the base of a tree, back pressing against it as her form being almost completely covered by the lush greens around her. This was simply shelter offered and freely given by the shrubbery which surrounded the graveyard. Even with her vibrant colourations, she would be next to impossible to pick up. Where she sat in wait, the sword resting against her leg, allowed her to watch her surroundings.
From here, she could see the metal fence which surrounded the burial grounds, see the gravestones which lined them. Here she could see anyone and anything that entered and she wouldn't be seen herself. There was a section of the bent fence near her location, which was more than enough for her, or anyone else, to slip in. The main gates were open as always, on the west side of the graveyard. Approximately 30 meters towards the centre of the graveyard and twelve meters to the right laid the new coffin. The burial site was only around 8 meters from the bent fence that she sat near, which meant that, logically, her entrance would be the easiest to use to get to it, especially considering there was cover to use to ensure the security of the path. This would give not only cover from potential attacks due to the rocks that laid between her shrubs and trees to the bent fence (5m approximately) but would also allow her to hide as he stalked closer to the grave.
But now, it was just a waiting game...
@Zack Coyote