Skylar
Pandora's Phoenix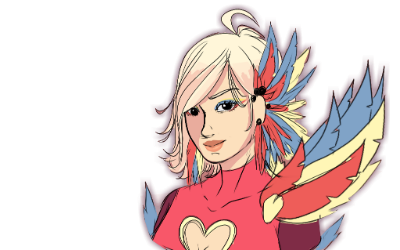 For once in her time, Skylar was quiet. It was dark, and she was quiet.
She hadn't spoken a word since that mans death. The glassy look in his eyes, the very fact that she could have been murdered with one false move. It shook her to the core to realise how far she had fallen from her place in her homelands. But the deed was finally done, he was finally at rest and had been set free from himself. For now, at least.
Skylar just hoped it stayed that way.
She had made her way back through the city, her feet taking her through the alleyways. Skylar was remained silent, ensuring not to accidentally bump into people on her way through the town. Her eyes looked to and fro, but refused to register anything as her mind refused to wander to the murder she committed. Due to her killing them, that meant that she was not a murder in one, but two places now. Her thoughts plagued her mind as she wandered through the alleys, following the vague directions Nameless had given.
Nameless... At least her first task the cat-girl had given to her was complete and she hadn't lost her life for it. That person who had caused her so much grief was gone, by Skylar's hand. And that in itself was something to be proud of. She took someone down, somehow without getting physically hurt. It... honestly was a miracle that it panned out in such a way. It truly was. However, her mind wandered back to her promise she gave to Nameless. Was Zack and less evil than what she already was? Turning to walk through somewhere to her right, head raised as she looked left and right.
She partially sighed, a smile finally cracking on her face. Of course Nameless wasn't going to be so easy to find, so there was one real question.
Where was her mentor hiding this time..?
@Nameless