Skylar
Pandora's Phoenix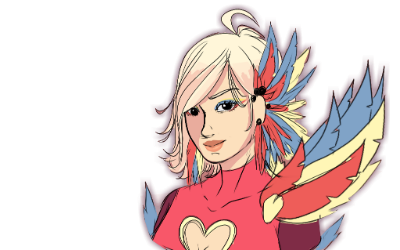 Surely the days would be easier now that she were back?
But the crippling silence, what she saw around her, Skylar highly doubted that was true. Her plans were simple enough, but actually being able to do what was needed was a true challenge to them both. After instructing Elizabeth to walk ahead of herself, and wait for her just near the edge of the alleyway, telling her not to look back at Sky. There, there were two other pathways that connected to the alley they were in, meaning that the assassin could get out... But at the same time, meaning that she couldn't really do much to stop Skylar from at least seeing her. She kept her own axe hidden underneath her feathered arms from other prying eyes as she continued to force herself to keep trying. Trying for what?
A simple vantage point. Something. Anything. Ashura wasn't going to come out easily, or if she did, Skylar was going to have to be in a position where she wasn't going to be seen instantly, but could easily get to Elizabeth and at least prevent Ashura from killing her. That was one of her tasks, after all.
Instead, Skylar adjusted her shoulders, before Elizabeth finally came to a stop. . . But thankfully, Skylar, from where she was, was concealed enough in the darkness for Ashura not to know she was there. And, hopefully, that was enough to ensure that she would try and strike Elizabeth.
But not without Skylar seeing and being able to act upon it.
---
@Ashura
@Elizabeth
Le Familiar Axery