Skylar
Pandora's Phoenix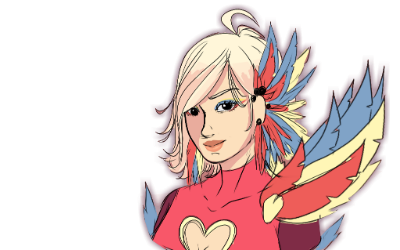 Despite the words and training which Skylar had been going through, she wasn't able to help herself when she noted that she was actually becoming exhausted. Perhaps even tired. Skylar had reached a point in time where she simply needed to have a short relaxation and respite period. Even if only to stop for a few moments to recover recollect her thoughts. Things were beginning to blur together, days upon days, hours into hours, the vivid pictures of blood splattered men surfacing with a fire and rage into her mind. She slowly exhaled. Sure, she did what she did with purpose and reason, but at the same time, it didn't mean that she loved doing it sometimes.

Especially when she could remember the lifeless eyes... Staring at her. Into her very being.

She simply did it because it was the right thing to do. Putting them out of their misery was the last thing she needed to do for Nameless.

With a small groan, the feathered armed lady took a seat on a nearby bench. People passed her by, animals scurried to and fro, in search of their own food for the day. Speaking of food, her stomach almost growled at the thought. She'd force herself to go and get something another time and another day. Maybe a day was pushing it, after all she did need to eat more regularly than other people. Leaning forward, she rested her head against her hands. It was going to be a tough next few weeks, maybe something she didn't even enjoy, but she would have to endure.

Even if she died attempting to do the will of Nameless and fulfill her promise.