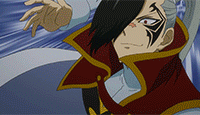 Name:
Shadowball
Rank:
D
Cost:
5 MP
Magic:
Hell Demon Slayer
Element:
Darkness
Description:
The use casts three balls of concentrated darkness. Two from both palms, and one from the user's mouth.
Strengths:
- Each ball of darkness deals half a D-rank's worth of damage.
- The balls travel at 10m/s
- They deal D-rank damage to any Light defense magic.
Weaknesses:
- They can only travel up to 10m max
- Takes up 5 D-Ranked spell slots
- Travels only in a straight line.
- They can be destroyed of canceled with any form of a light spell
Duration:
Instant
Cooldown:
[May only be cast once, per post]
Last edited by Nameless on Sun Mar 25, 2018 10:42 pm; edited 2 times in total