Fairy Tail Ethereal RP

Neo Stigma






---

---




Lineage

: Blood Brothers Pact


Position

: Super Saiyan


Origin

: Wonderland


Posts

: 926


Sacred Shards

: 18


Class

: C


Level

: 33


Experience

: 2545

Character Sheet


Character Name

:

Neo Stigma




Alignment

:

Chaotic Good




Primary Magic

:

Unknown
It's rins site.... do i need to say more?
_______________________________________________________________________________________________________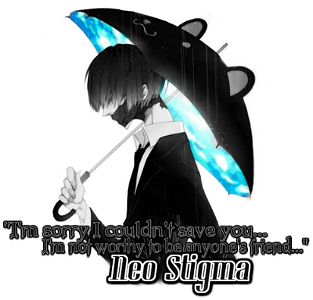 Samedi




---




Lineage

: The Green Man


Position

: None


Origin

: Kingdom of Kai


Posts

: 240


Sacred Shards

: 0


Class

: F


Level

: 6


Experience

: 125

I do have to say, this time it looks a lot nicer than before, but it's sadly the same site and same problems as before. Sadly, the last advertisement was removed becausethe site died and was remade like 4 times.
The basic issue of the site not being how it[s formatted, or appearance, but how it's run. The owner is very close minded when it comes to changes as well as things that don't stroke her ego. She herself left this site "permanently" 3 times. But this is no place to talk about that, let turn our focus back to the site.
The site is beautifully painted, and I tip my hat to the new GFXer of that site. You've done good. Sadly, it's the same systems that allow the owner, founder, and any old members to GodMod and keep a clique without allowing new people to freely stand up, that is, without bombarding the owner with compliments. But that's just my personal opinion.
---
48 Hours this thread will be locked.

Guest



I tend to be more vulgar in terms of reviewing things, but I could be wrong(meaning that I'm soft.). However, when I saw this, I immediately had to say something, despite Neo trying to convince me that I should do otherwise. But it seems that whoever posted this doesn't know what's really going on.

I'm going to be frank with you guys when I say this:



I would sooner quit roleplaying than join that site.



That's real talk, me saying that. There are a myriad of problems within it, and I frankly don't know where to start.

Oh, I know! Let me touch upon the fact that this site is the fourth in a series which have all died.

Secondly, I've been doing recon around the site, and found that it has made absolutely no conscious efforts to change, instead preferring to literally repackage the site, same exact systems, just different GFX.

Before I go on, whoever did that GFX is dope as hell.

Thirdly, and most importantly, it seems that you can't get anything nice unless you kiss the owner's ass. And the exact same systems are allowing the owner, founder and any old members to constantly godmod and keep a league where they essentially dominate the whole site. Not making things better is the fact that the owner is a self-absorbed POS who's incredibly closed-minded. To put it straight, she don't like anything that doesn't stroke her ego, or involve someone kissing her ass.

I'm going to call it how I see it: It's a carbon copy of the three failures before it, except with different GFX.

I honestly feel bad for any motherfucker who decides to join that site.

No regrets, Ryuhei.


Anonmyous Rper




---




Lineage

: None


Position

: None


Origin

: -


Posts

: 1


Sacred Shards

: 0


Class

: F


Level

: 1


Experience

: 0

I appreciate your "gracious" review "ryuhei"

And I have a few things to say here. It may have failed in the past, it may have been f***ed over by two people in the past. HOWEVER!

I am NOT close-minded anymore. I listen to my members. Also, you don't need to "kiss my ass" as Ryuhei kindly put it, to get things, you just have to work hard and earn what you want with your RP skills.

Look, you shouldn't take mine or anyone else's words about a site. You should go and check it out for yourself and see if its really a bad site or not.

Yes, the systems ARE the same but there ARE a few new ones and they HAVE been slightly improved upon.

I DO NOT expect anyone stroke my ego, because that will NOT get you anywhere with me. If you want cool stuff or if you want to be stronger. then WORK for it.

And that's all I'm going to say.

Sinister Afternoon




---




Lineage

: Gunslinger's Quick Draw


Position

: None


Origin

: Toonville


Posts

: 27


Sacred Shards

: 0


Class

: F


Level

: 1


Experience

: 0

Character Sheet


Character Name

:

Dark and Sinister Afternoon (Dasa)




Alignment

:

Neutral




Primary Magic

:

Paint Enchantment
My friend recommended this to me.

Needless to say, we're not friends anymore.

Kaseki






---

---




Lineage

: Gift of The Lion Turtle


Position

: None


Origin

: Pandora


Posts

: 4899


Sacred Shards

: ∞


Class

: Ω


Level

: ∞


Experience

: ∞

Character Sheet


Character Name

:

Kaseki / Kodai




Alignment

:

Lawful Neutral




Primary Magic

:

Gift of The Lion Turtle
_______________________________________________________________________________________________________
[
Kaseki & Kodai
||
Xiaowei
||
Magic
||
Bank
]