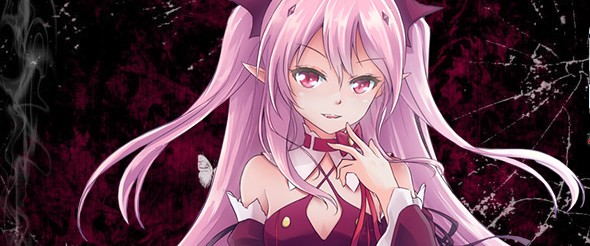 Name:
Alexandria V. Astor
Nickname:
Alex
Gender:
Female
Race:
Vampire
Age:
 14 || Vampire Age: 150
Birthday:
April 13th
Sexuality:
Straight
Unique Characteristics:
Slightly pointed ears, and fangs
Personality:
Alexandria is a cheeky, rude, and know-it-all brat. She feels she is superior to others in terms of strength and intelligence. She thinks of herself as being a lady who deserves to be put up on pedestal and be worshiped by others. Alexandria hates wasting her time on boring or unintelligent people. To her, her time is precious and she would rather use it doing something productive like broadening her span of knowledge or blowing up a random building for the hell of it.
That's another thing, Alexandria absolutely loves random acts of destruction. It doesn't matter if its her doing the damage or someone else. She just loves the idea of things being destroyed.
Alexandria is very rude, constantly talking down to others as if they are beneath her as a person. She feels that people should feel honored that she even bothers to talk to them. Alexandria is cheeky as they come. She always finds a way to be impudent to others, even those older than her. She doesn't respect her "elders" always laugh at those who attempt to get a rise out of her or who tries to stand up for themselves when she insults them.
Alexandria isn't one much for shedding the blood of others usually, she rather just drink it straight from the neck of her victims than get it all on her. One thing about Alexandria is that, she's a very clean person, she hates being dirty or talking to people who smell or look dirty. She keeps herself and her belongings neat and clean.
At times, Alexandria can be quite the tsundere. She has a very bad temper most of the time which only contributes to her being one. When she does something nice for someone she'll play it off like she wasn't doing it for that person and then become physically or verbally violent if they point out the contradictions in her words and actions. She is definitely the jealous type when it comes to the person she likes. Often getting more mad at her crush then the one who came onto them.
One thing that Alexandria can't stand is goody-two shoes. People who try to be nice to everyone and save the day. She hates those types of people the most, they make her want to puke. She can barely stand people who are nice. She rather just steer clear of them. Only nice person she puts up with is her childhood friend, Shane.
In combat, Alexandria's policy is always kill or be killed. She knows that an enemy even though beaten once could get back up to attack again so, she rather make it so they can't ever get back up. She goes into battle full speed. She feels that so long as she can dodge, block and attack at the right moments, that's all that matters to her.
Likes:
- Destruction
- Her childhood friend, Shane
- Cleanliness
Dislikes:
- Nice people
- Humans
- Idiots
Motivations:
- To get stronger
- To destroy her enemies
- To find love
Fears/Disgusts:
- To be killed
- Devil Slayers
- Spiders
Eyes:
Red
Hair:
Pink
Height:
5'1"
Weight:
115 lbs
Complexion:
Pale
Last edited by Alexandria on Sat Nov 19, 2016 3:17 pm; edited 1 time in total