Name:
Mechafract Overlord
Type:
Steel/Metal
Secondary Type:
Life
Usage:
Conjuration & Manipulation
Description:
Those that become hosts to a swarm of Mechafract give up their magical potential to feed the arcanotech miasma and allow it to reproduce within their body and soul alike, and in return they become a Devafract - simultaneously the "queen" of the swarm, and the hive.
Devafracts are incapable of directly using other magic types, as their Mechafract simply consumes all of their mana to function, reproduce, and run their enhanced body. Mechafract is, in fact, capable of channeling simpler elemental magics if the user learns them like anyone else would. Of course, this is not even close to its intended use.
Its intended use is to
Spoiler:

pierce the heavens and tear down the fucking gods
form and repair complex mechanical structures around the user on-demand, and create a highly flexible soldier that sacrifices some level of shock and awe for pure
Spoiler:

MAGNIFICENT FUCKING PILEBUNKERS IN THE ARMS AND A FUSION REACTOR INSTEAD OF A HEART
practicality.
Note that the stronger and larger a mechafract construct becomes, the more it loses any organic shape and resembles a machine with massive plates, pistons, et cetera.
For example, a really high-tier mechafract shell with a lot of integrated weapons would look something like this: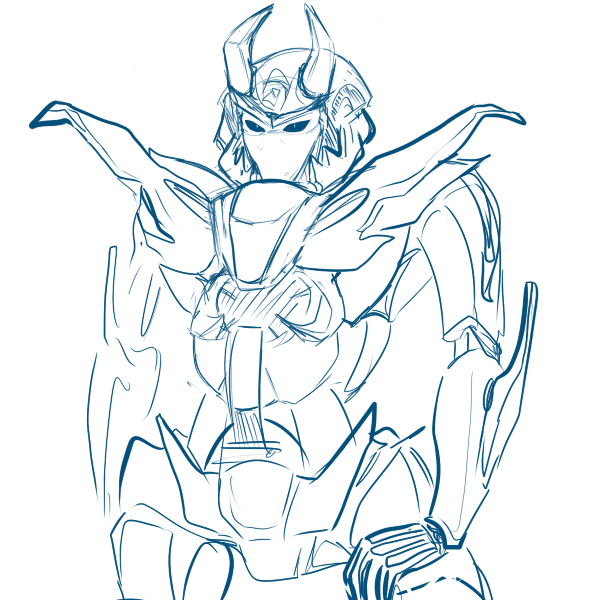 Abilities:
- Manifestation and control of a swarm of mechafract, arcanotech nanomachines that reside within the host and feed off their magical energy as well as willpower.
- The ability to solidify mechafract and create things out of it, such as claws, horns, et cetera. Also allows for, with skill and understanding, the replication of spells from other schools by actually physically having mechafract form the logistic circuits to manipulate raw mana and replicate the effect on-demand.
- Self-induced body modification
Spells:
Name:
Mechafract Carapace
Rank:
D
Description:
In fight-or-flight situations or if simply willed to do so, the Mechafract within the body forms a hardened armored shell around the Devafract.
Its appearance varies, from a sleek, second skin that is nigh indistinguishable from the actual appearance of the user, to a bulky, sinewy, multi-colored armor that can withstand high caliber high-explosive shells.
Unstrengthened, the "soft" carapace has properties similar to high-grade carbon fiber interlaced with steel. "Hard" carapace, proper-like armor plating, has properties similar to a middle ground between ceramic plating and steel in terms of hardness and flexibility.
Strengths:
- Universal defensive tool, can cover entire body or parts of it with varying thickness
- Extremely light and resilient, highly resistant to environmental hazards
Weaknesses:
- Takes time and concentration to form anything beyond a light carapace
- Lacks inherent offensive capability
- Does not regenerate automatically and can be overwhelmed with concentrated kinetic force
Duration:
As long as it takes.
Cooldown:
If the carapace is re-absorbed, 3.
For each major portion of the body that was not re-absorbed, add 1 additional turn of cooldown.
Name:
Will of the Broken One
Rank:
D
Description:
The Mechafract swarm actively consumes all of the magical energy generated by its host and stores it in bio-arcane batteries all over the body, located in vital regions, most notably the heart and the brain.
This portions of this latent power can be released through sheer willpower or in states of heightened emotion for various effects.
In practice, it works like a cross between the Seven Black Boxes from Mazinger Zero, and the Eight Chakra Gates - with the simple exception that releasing more does not have any real negative consequences other than the inability to do so without building up a shell that can withstand the power.
Strengths:
- Can be disproportionately powerful for its low rank, allows user to punch well above their weight
- Long-lasting and fast to recharge due to the fact that the perpetual magical strain forces an artificial buildup of magical strength within the host regardless of whether or not they use it
Weaknesses:
- Heavily emotion-reliant
- Can not be abused with clever tactics
- Functions as an equalizer, in that it also limits the user. Unless they feel threatened, they can not use a significant part of their power
Duration:
As long as the elevated emotional state of the user does.
Cooldown:
4
Name:
Machine God Fist
Rank:
D
Description:
A bulky, armoured gauntlet forms around the hand and forearm of the caster, housing an acceleration mechanism and a long, solid rod.
This variation propels the rod with a small but powerful explosion, imparting sufficient kinetic energy to punch through practically any mundane material, while proving the user added protection compared to the armored shell.
Strengths:
- Very powerful and simplistic
- Provides a reliable anti-armor solution for unarmed combat
- Unarmed strikes are strengthened due to additional mass and internal servos
Weaknesses:
- Takes time to spin up
- Weighs enough that it warrants internal servos to nullify its weight
- After firing, it takes time to reset the mechanism
- Rod may become damaged if fired against particularly resilient target, may need replacing
- Mechanism is crude and not efficient in terms of energy to damage, requires improvement
Duration:
Instantaneous.
Cooldown:
4 for formation of a new one.
Carapace+Feedback Loop in Ruba:
Overmind Feedback Loop in "Id-Ego":
Last edited by Ruba Akaso on Tue Feb 14, 2017 4:26 pm; edited 3 times in total