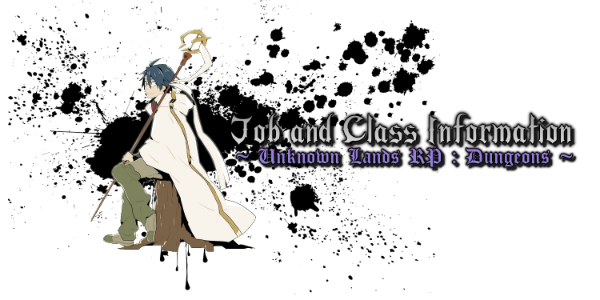 Classes are not mandatory to start an adventure, and can be selected at any given time. Each class has a unique set of bonuses that give user's an edge in the Dungeons. These are considered "blessings" as they have no power or role on Pandora itself. These are skills and abilities granted for only use in help defending Pandora, by clearing dungeon floors.
Those that take up the Class of a Swordsman will find themselves with an edge that will cut down like no other.
All bladed weapons, deal x2 damage. If the weapon is not a bladed weapon, it can deal x2 damage, but the durability will be halved.
A Sorcerer Class user will be able to gain their energy at a much faster rate than others, and in some cases possess skills that are far more advanced than any magical ability their party members hold.
While in the dungeon, Sorcerers gain 5%MP at the end of every post. This MP cannot be used during the post it was rewarded.
If you take the class of a Defender, or as others call them a "Tank", you will find yourself with a higher defense and strengthened body. While you may not deal more damage like some other classes, you will be able to self sustain longer in the dungeons.
All attacks deal only 75% of their total damage. (ex: 1D would be 3/4 D damage.)
Often rare to see, Buffers are specialty personnel that focus on boosting party stats, or lowering enemy stats.
Duration of all buffs and debuffs are increased by 50%, with a minimum of a single post.
This does not effect cooldown, and can be stacked if the cooldown is shorter than the new duration.

(EX: If duration is 2 posts, new duration is 2 + 1 post. If duration is 1 post, new duration is 1 +1 [posts.)
One of the Specialty Classes, being a Healer makes you rely on others, but with your recovery abilities, they'll need you more than you need them.
All healing spells that do not target the caster, are doubled. User recovers 5% HP at the end of every post, this does not take effect if the user is killed or defeated in combat. This will not stack with other passive abilities that heal the user.
Some people prefer to keep the fight away from them. These are Rangers, and are typically distance focused.
All ranged spells have 50% more range. All ranged weapons will have 50% more ammunition if owned by the Ranger. All thrown weapons will deal 50% more damage.