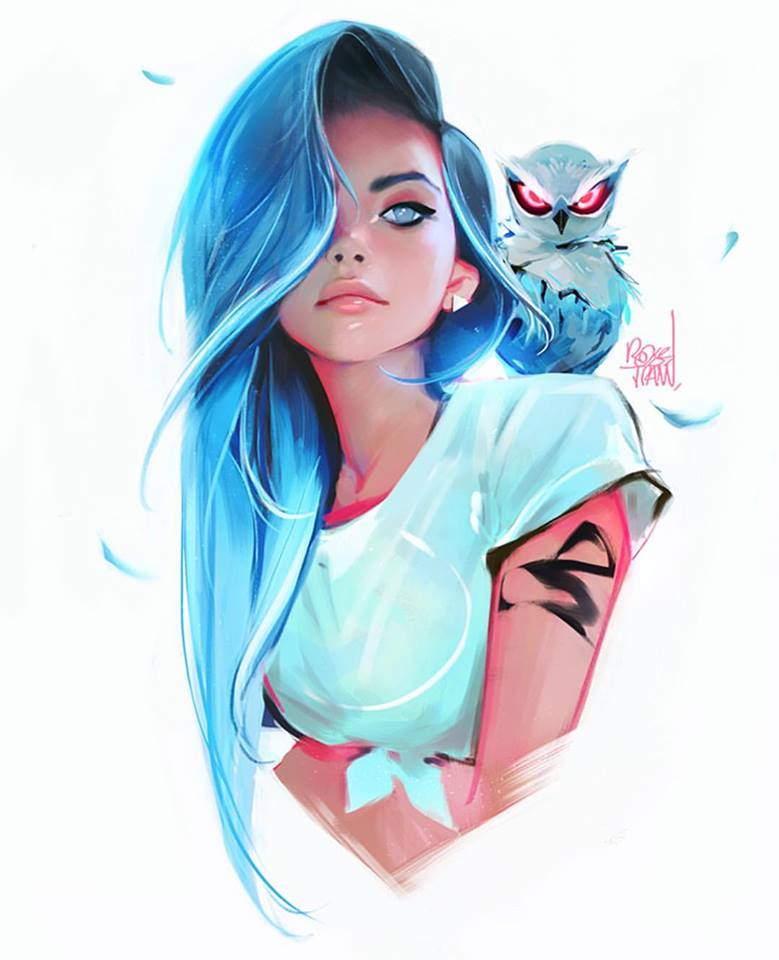 All rights go to the original artist.  
Name: Kokoro Samoya
Nickname: Ko, Blue.
Gender: Female
Race: Ninja
Age: 26
Birthday: March 22nd
Sexuality: Straight
Unique Characteristics: Blue hair and eyes are traits from her father's side of the family, so there are a few others in the village have it as well. She does have an owl tattoo on her left upper arm
Personality:  
In a casual environment Ko is very chill and flirty. She likes being friendly and meeting new people, although she is cautious, she is all around calm and collected. Ko does enjoy looking put together so she often spends time on her hair, nails, and appearance, taking pride in it.  
In a fighting environment Ko likes to take her time if the situation allows it. She waits for her opponents to strike before making the first move. She is blood thirsty if it goes far enough, like someone hurting her family and friends.  
Likes: (Please list 3 Minimum)
-Animals
- Cute men
- Reading
- A good fight
-Lazy Sunday mornings
- Rainy days
- All birds
- A good hair day
- A fresh manicure/pedicure.
Dislikes: (Please list 3 Minimum)
- Crass people with no sense of humor
- Being cold
- The color orange
- Corny people
- Humidity
Motivations: (Please list 3 Minimum)
- Keeping her village safe
- Protecting her friends
- Meeting new people
- Learning everything she can.
Fears/Disgusts: (Please list 3 Minimum)
- Alive fish gross her out
- A fear of letting people too close
- Running eyeliner
Eyes: Blue
Hair: Blue
Height: 5'7
Weight: 145
Complexion: Pale with a pink undertone.