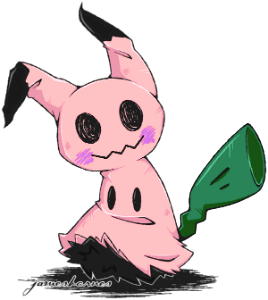 Name:
Monkyu
Owner:
[Marketplace]
Type:
Combat Pet
Rank:
Strong
Race:
Monkyu
Personality:
Monkyu are creatures that have only recently started to appear on Pandora. They are curious creatures that look like dolls. They wander when unattended but are fierce in battle. They often stare at their masters with tilted heads asking for explanations for everything. Rarely are they seen away from their owner's sides.
Description:
A small creature that looks like a doll. It stands no more than a foot tall. It comes in many colors, this Monkyu is pink and green. When it's hit it makes a squeak sound like a chew toy. His mouth is on his underside.
Name:
Ironjaw
Rank:
D
Description:
Jumping on its target like a leech, it bites down with teeth on the bottom of itself.
Strengths:
- D-ranked Damage
- Considered Metal Damage
Weaknesses:
- Has to be in contact
- Mouth has to be open
- Doesn't damage any Water defenses
Duration:
2 posts
Cooldown:
3 Post
Name:
Monkyu Kenoshi
Rank:
C
Description:
User gains HP while near Monkyu
Strengths:
- Heals C Ranked HP
- Passive
Weaknesses:
- It can only heal the owner
- 10m range
-  recovery is only at end of post.
Duration:
Passive
Cooldown:
Passive